The Numerology Guidebook
If you're looking to learn everything there is to know about numerology in a simple and easy-to-understand way, The Numerology Guidebook is the ultimate book to teach you. Whether you're a beginner or an advanced numerologist, The Numerology Guidebook will show you how to forecast the future and calculate a personal chart for yourself as well as your children, partner, family, and friends.
Numerology is the ancient science of numbers that reveals your future potential and the blueprint of your life. Whether you're searching for self understanding, predicting the future, or looking to choose the ideal career, partner, home, date, or name – the answers are written in your 'numbers'.
The Numerology Guidebook will teach you everything you need to know about:
Personality profiling and forecasting the future
Your destiny, life purpose, life lessons, and life cycles
Changing and choosing a name (especially after marriage or divorce)
House numbers, pet numbers, and recurring numbers
Number compatibility and ideal career choices
Children's numbers and parenting by the numbers
Manifesting by the numbers to achieve your goals
Wedding day numbers
Choosing a business name or baby name
Choosing the ideal time to: find love, focus on your career, move house, save money, travel, get married, change jobs, have children, end a relationship, study, work on your personal or spiritual development, create a fresh start, or prepare for endings
Here are the contents of 'The Numerology Guidebook'
Preface
Introduction: What Is Numerology?
PART I: Your Core Numbers
Calculating Your Core Numbers
• Life Path Number
• Destiny Number
• Soul Number
• Personality Number
• Maturity Number
• Birth Day Number
• Current Name Number
• Karmic Lesson Numbers
Number Meanings
• Number 1: The Independent Individual
• Number 2: The Cooperative Peacemaker
• Number 3: The Self-Expressive Creative
• Number 4: The Dedicated Worker
• Number 5: The Freedom-Loving Adventurer
• Number 6: The Responsible Caregiver
• Number 7: The Contemplative Truth Seeker
• Number 8: The Business-Minded Leader
• Number 9: The Compassionate Humanitarian
• Master Number 11/2: The Inspirational Teacher
• Master Number 22/4: The Master Builder
• Master Number 33/6: The Cosmic Parent
• Karmic Debt Number 13/4
• Karmic Debt Number 14/5
• Karmic Debt Number 16/7
• Karmic Debt Number 19/1
Understanding Your Numerology Profile
PART II: Forecasting and Timing
Your Cycle Numbers
• Major Life Cycles
• Pinnacles
• Challenges
• Personal Year Number
• Personal Month Number
• Personal Day Number
• Essence Number
Blending Everything Together
 PART III: Other Numbers in Your Life
What's in a Name?
• Changing a Name
• Choosing a Name
• Choosing a Pet's Name
• Choosing a Business Name
• Choosing a Baby Name
Number-Conscious Living
• Parenting by the Numbers
• House Numbers and Street Name Numbers
• Wedding Day Numbers
• Manifestation with Numbers
• Recurring Numbers
Afterword
Glossary
Acknowledgments
About the Author
Click here to read an excerpt from 'The Numerology Guidebook' 
The Numerology Guidebook can be purchased from
WORLDWIDE

AVAILABLE NOW!!
Hay House Basics – Numerology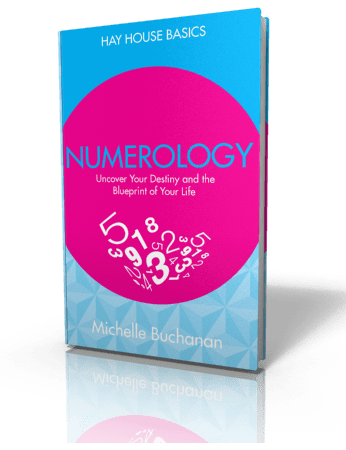 Number 1 Best Seller for "Numerology" on Amazon UK – "Hay House Basics – Numerology" is part of the Hay House Basics series – a comprehensive new series that features world-class experts sharing their knowledge on core topics in the areas of self-development and mind, body, spirit.
Clear and concise, these books aim to de-mystify popular esoteric subjects so that anyone can understand them.  They explore the benefits these techniques can have for the reader's life, and provide recommendations and suggested next steps for them if they wish to study the topic on a deeper level.
'Hay House Basics – Numerology' is the ideal introductory book to the world of Numerology, especially for beginners.  It isn't quite as in-depth as 'The Numerology Guidebook'.
View an excerpt from 'Hay House Basics – Numerology' below :